graphics may take while to load, please be patient

If pics don't appear,right click on mouse,click show pics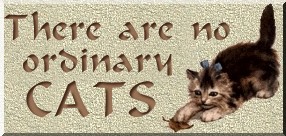 Animal Rescue
All of the Animal Rescue Shelters listed below are No Kill Shelters
Spanky is a little orange tabby cat that has been burned nearly beyond recognition.He has underwent several surgeries.He is slowly on his road to recovery.This was made possible by the tireless work of Frances,owner of the Lighthouse Animal Rescue.Anyway that you can help Spanky or any of the other little animals that Frances rescues would be appreciated.
Lighthouse Animal Rescue~Spanky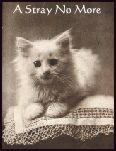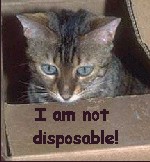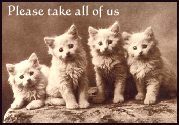 A few of my favorite "No Kill" shelters.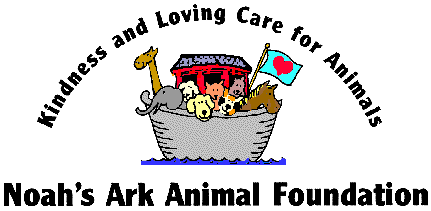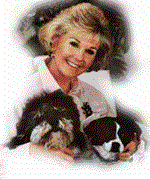 Every site listed here is dedicated to the care of all animals.The animals are given plenty of TLC.They have dedicated staff and volunteers. Their goal is to care for the animals and nurse them back to health.Eventually to see that the animal is adopted but if that is not possible,the animal has a home at the shelter for the rest of his life.
Remember these are all "No Kill Shelters".Beautiful words!No animal should be abandoned and then be killed by society.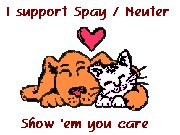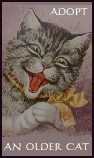 Kittens are precious but don't forget the adult cat.There are thousands of adult kittys who also need good homes.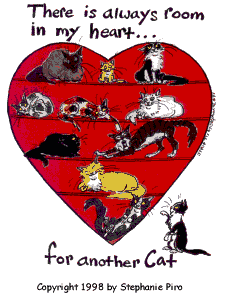 Cat Fanciers

Animal Rescue Foundations

Best Friends

Good Mews

Laga Vista P.A.W.S.

Pet Rescue

Tri-Valley Animal Rescue

Critter Orphanage

Potomac Stray Cat Rescue,Inc

The Humane Society of Ocean City,New Jersey

Animal Welfare/Rights/Humane/Rescue organization

Helen O. Krause Animal Foundation,Inc.

Animal Friends

Sans Colliers

Pet Animal Welfare Society PAWS

The 10th Life Foundation for Senior & Special Needs Cats

Mercy Rescue Net

Alliance for Animals

Whiskers Animal Benevolent League

Forgotten Felines

Helen Woodward Animal Center

Animal Welfare League

Pet Connection

Silicon Valley Friends of Ferals

Cat Care Society

The Cat Network

Cat Welfare Association~Columbus,Oh

Strays Halfway House

Friends for Life

S.H.A.I.D. Tree Animal Shelter

Friends of the Plymouth Pound

Cats Haven

Project Purr

Kalamazoo Animal Rescue

Kitten Rescue

Kitty Angels

The Haven~Friends for Life

Merrimac River Feline Rescue Society

A.D.O.P.T.

Connecticut Cat Rescue Web

Pet Pride of New York,Inc.~A No Kill Shelter for Cats

Pet Action League

Open Up Your Heart

Benevolent Animal Rescue Committee

Homeless Animal Rescue Team

Peoples Anti-Cruelty Association/Albuquerque

Texas Cares

Maumee Valley Save-A-Pet,Toledo,Oh

Doris Day Animal League

Hugs for Homeless Animals
Become involved.See what you can do to help all of the poor and defenseless animals that are mistreated every day.You will feel so very good about yourself when you do.
If you have read this page,then we kittys thank you.We are so glad that there are so many nice people like you and our human mommy & daddy.They saved us and we hope that you will help to save some of the little kittys or doggies at some of these shelters,or at your local shelter.
Pick your kitty up,hold him in your lap and feel the love that he gives to you.You two sit back and relax while we take you to the