We do not endorse or are we responsible for the contents of the above sites
Please be patient,page is graphics intensive.It will be worth your wait.Something for everyone.
If pics don't appear,right click on mouse,hit show pics.
To email this page to a friend,use the Bravenet Announcer at bottom of this page,thank you
Purrfect Pets~Marvelous Meows

A cat is just a bundle of Purrs!
May all the little animals be as happy we are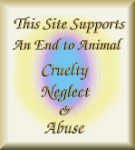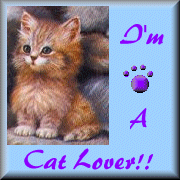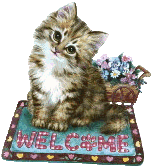 Our Family
My name is Tiger.I am the proud Matriach of our family.I am "The Topcat"of all the cats in our family.Baby and I are the mommies of the other kitties in the family.The kittens are each distinct with their own personalities.You will meet all of the family inside these pages.
Cats are often misunderstood.We are very affectionate and help to lower ones blood pressure.A cat is a friend who will never betray you.There is no such thing as "just a cat".All cats are special little furrbabies.
We can be very independent at times but we also crave the attention of our human mommies & daddies.
Dogs come when they are called.
Cats take a message and get back to you.
*Smile*
We kitties have a sense of humor too.

Learn about how we all became one big happy family and came to live with our human mommy & daddy.See our story in
After much meowing from the kittys,Baby and I decided to let them tell you a little about theirself.They can be a paw full at times.You will find out when you visit
Hey Kittys! After you listen to The Kittys,lets go do the Kitty Chow Chow.Listen to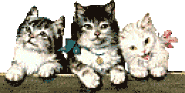 Look at pics of our sweet babies in
Our Kitty Album
Anyone that has ever lost a pet knows the heartache of such a loss.We have 3 cats and 2 dogs at Rainbow Bridge.

Visit our Memorial to them at
Although the majority of people are good there are some that get pure enjoyment our of torturing animals.These same people that would torture an animal would also torture a child.Unfortunately,there are thousands of little cats and dogs that have been tortured and maimed by the human race.


Please do not abuse your pets.We have feelings too.Be a responsible pet owner and spay and neuter your pets.Never,Never Abuse Your Pets.
10 Commandments for Responsible Pet Owners
On the 8th day God created cats
So men could understand women :-)
Women & Cats do what they want
so Men & Dogs better get used to it :-)

If you like the graphics on our site,please visit the graphic links throughout our pages.Download some of their graphics and their logo to your files.Please give them credit for their graphics by providing a link back to them.Please respect our rights and the rights of the graphic artist.
Do Not Link Directly To Their Server Or To Our Server. To find out why this is so important please go the the link provided below after you view our pages.
Web Prestige
Complete index is on Site Map to Purrfect Pets~Marvelous Meows.
Each page has a link to the Site Map to Purrfect Pets~Marvelous Meows.You may use that or scroll to the bottom of the page and click on BACK,NEXT or HOME.
The album on this site is registered in the name of the owner Rustyjo.

Please sign one of our guestbooks that our human mommy put in here for us.Come back to see us real soon.We will come and see you too and put our paw print in your book.
Please click on the kitty to enter.




After you finish your visit here please go to our other home on the web.We have a lot more things there for you to see.Also won't you please stop in and visit with our human family and their kids.We love all of them so much.



Last updated on 04-28-2002
BEST
of POD
Thank you so very much.The 2 mommies and their babies are very proud of this award. They are proud to be members of the Tripod Cat Pod
If you are a tripod member and would like to join a great tripod webring,please go to
Nose Kisses and Belly Rubs

Latest Headlines News and Weather